This daily roundup brings you a selection of the latest news and updates on the COVID-19 coronavirus pandemic, as well as tips and tools to help you stay informed and protected.
Top news: Confirmed COVID-19 deaths top 900,000 in US; South Korea passes 1 million confirmed cases of COVID-19; Moderna's COVID-19 vaccine has been fully approved in the United States.
1. How COVID-19 affects the world

Confirmed cases of COVID-19 have exceeded 395 million worldwide, according to Johns Hopkins University. The number of confirmed deaths has now exceeded 5.74 million. More than 10.2 billion doses of vaccination have been administered worldwide, according to Our World in Data.
Indonesia has banned foreign tourists from entering the country through Jakarta airport, in a bid to slow the spike in COVID-19 infections.
South Africa's health regulator has registered the Sinopharm COVID-19 vaccine, paving the way for its use in the country.
The seven-day rate for COVID-19 cases and deaths has fallen in the UK, with infections down 5% and deaths down 7%.
Malaysia reported 9,117 new confirmed COVID-19 infections on Saturday, the highest daily figure in four months.
The U.S. Centers for Disease Control and Prevention has signed full Food and Drug Administration approval for Moderna's COVID-19 vaccine in people ages 18 and older. It becomes the second fully approved COVID-19 vaccine in the United States.
More than 17 million Vietnamese students are due to return to school today for the first time in about a year after the COVID-19 pandemic saw learning move online.
New Zealand reported a record 243 new community cases of COVID-19 on Saturday.
Singapore also reported a record number of COVID-19 cases, with 13,046 local infections reported on Friday.
Thailand reported 10,490 new confirmed cases of COVID-19 on Saturday, the highest in more than three months.
Each of our top 50 last-mile social enterprises and multi-stakeholder initiatives work across four priority need areas: prevention and protection; treatment and relief of COVID-19; inclusive access to vaccines; and securing livelihoods. The list was co-curated with Catalyst 2030 regional hosts NASE and Aavishkaar Group. Their profiles are available at www.wef.ch/lastmiletop50india.
Key last mile partnership initiatives to collaborate with: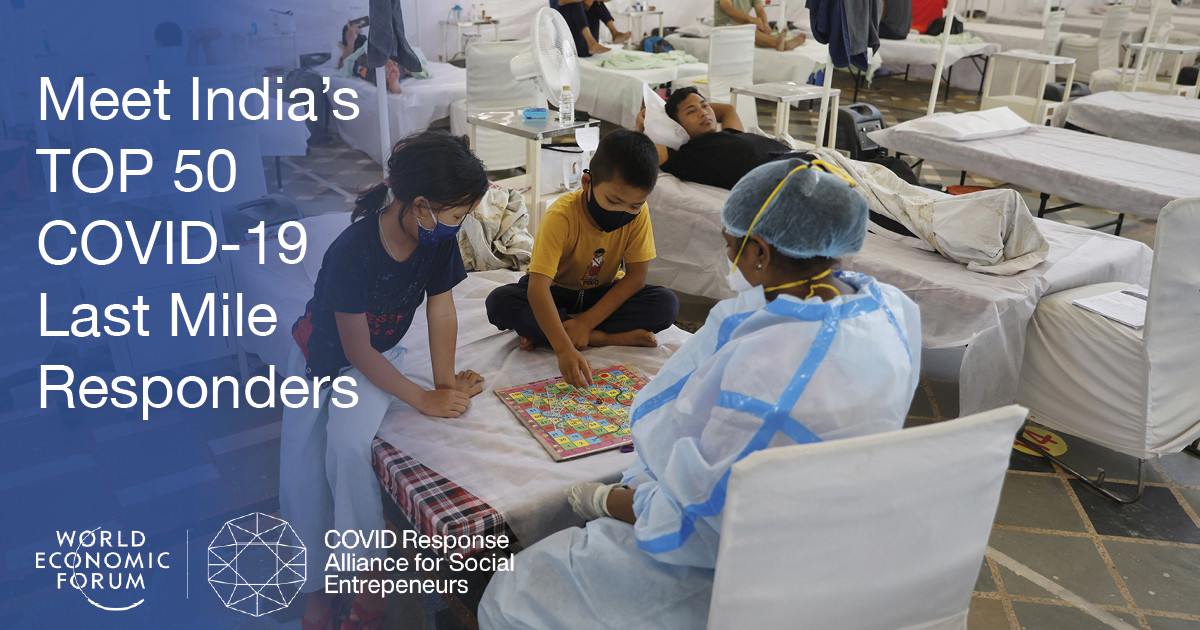 2. US COVID-19 deaths top 900,000

Confirmed deaths from COVID-19 in the United States topped 900,000 on Friday, according to data collected by Reuters.
The latest tally marks an increase of more than 100,000 COVID-19 deaths in the United States since Dec. 12, coinciding with a spike in infections and hospitalizations caused by the highly contagious Omicron variant of the virus. However, the death rate from COVID-19 in the United States appears to be slowing.
The United States has reported more deaths from COVID-19 than any other country, according to Johns Hopkins University.
3. South Korea surpasses 1 million total confirmed COVID-19 cases

South Korea has surpassed 1 million cumulative confirmed COVID-19 cases since the start of the pandemic, as health officials reported a daily record of 38,691 new infections on Sunday.
South Korea saw its first confirmed case of COVID-19 on January 20, 2020, and quickly became the first country outside of China to battle a major outbreak.
An aggressive track, trace, mask and quarantine strategy helped South Korea mitigate this initial surge and keep total cases and deaths low without widespread lockdowns.
Deaths remained low in the highly vaccinated country, however, with 15 new deaths reported as of midnight Saturday, according to the Korea Disease Control and Prevention Agency.